25.8 Urine Transport and Elimination
Key Takeaways
By the end of this section, you will be able to:
Describe how the kidney modifies filtrate to influence urine production
Describe the characteristics of a normal urine sample
Explain the role of the loop of Henle, the vasa recta, and the countercurrent multiplication mechanisms in urine production
Explain the role of aldosterone and ADH in urine production
Identify the ureters, urinary bladder, and urethra, as well as their location, structure, histology, and function
Describe the micturition reflex
Describe voluntary and involuntary neural control of micturition
Urine is the end product once the filtrate has been fully manipulated by the nephrons. Until the filtrate passes through the renal papilla into the minor calyx, it can be affected by nephron processes. This is how kidneys produce anywhere from .4 L of urine/day to as much as 20L urine/day, all while balancing plasma composition and excreting potential toxins in the urine.
Composition of Urine
The two kidneys filter your entire blood volume many times each day to remove wastes as urine. Characteristics of urine can be variable (Table 25.1) depending on water intake and losses, nutrient intake, and other factors described in this chapter, though cells, proteins and blood are not normally found in the urine. Some of the characteristics such as color and odor are rough descriptors of your state of hydration. For example, if you exercise or work outside, and sweat a great deal, your urine will turn darker and produce a slight odor. Alternatively, a well hydrated person will have light or clear colored urine with little odor (Figure 25.8.1).
Normal Urine Characteristics (Table 25.1)
Characteristic
Normal values
Color
Pale yellow to deep amber
Odor
Odorless
Volume
750–2000 mL/24 hour
pH
4.5–8.0
Specific gravity
1.003–1.032
Osmolarity
40–1350 mOsmol/kg
Urobilinogen
0.2–1.0 mg/100 mL
White blood cells
0–2 HPF (per high-power field of microscope)
Leukocyte esterase
None
Protein
None or trace
Bilirubin
<0.3 mg/100 mL
Ketones
None
Nitrites
None
Blood
None
Glucose
None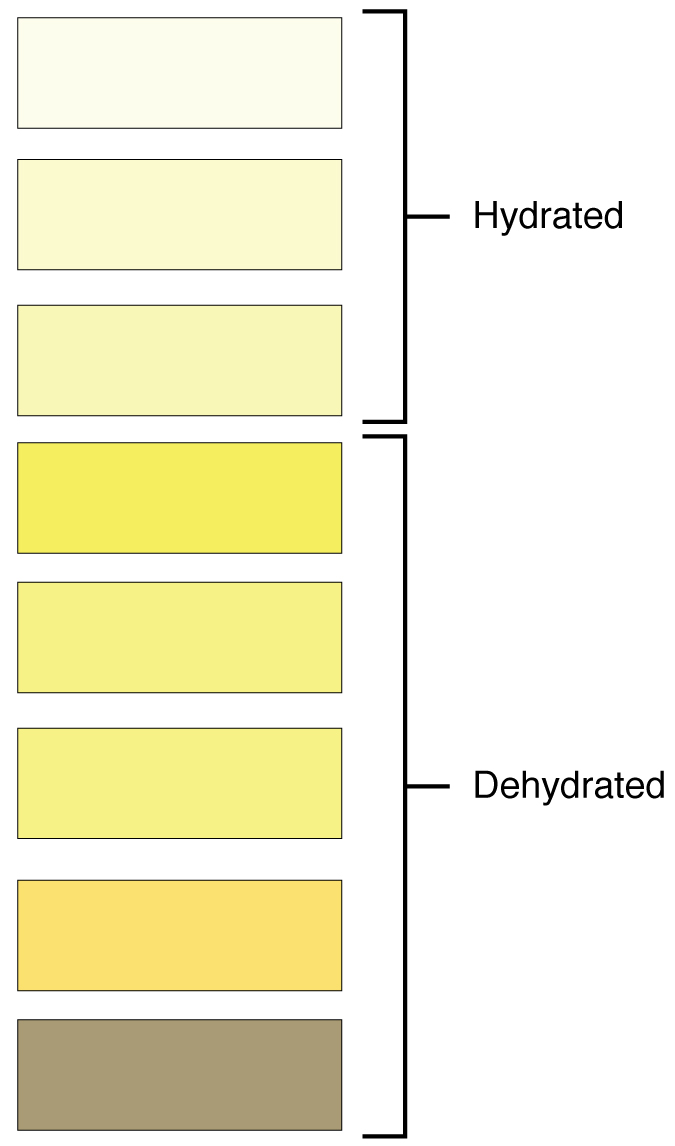 ---
This work, Anatomy & Physiology, is adapted from Anatomy & Physiology by OpenStax, licensed under CC BY. This edition, with revised content and artwork, is licensed under CC BY-SA except where otherwise noted.
Images, from Anatomy & Physiology by OpenStax, are licensed under CC BY except where otherwise noted.
Access the original for free at https://openstax.org/books/anatomy-and-physiology/pages/1-introduction.