11.3 Virulence Factors of Bacterial and Viral Pathogens
Learning Objectives
Explain how virulence factors contribute to signs and symptoms of infectious disease
Differentiate between endotoxins and exotoxins
Describe and differentiate between various types of exotoxins
Describe the mechanisms viruses use for adhesion and antigenic variation
In the previous section, we explained that some pathogens are more virulent than others. This is due to the unique virulence factors produced by individual pathogens, which determine the extent and severity of disease they may cause. A pathogen's virulence factors are encoded by genes. When genes encoding virulence factors are inactivated, virulence in the pathogen is diminished. In this section, we examine various types and specific examples of virulence factors and how they contribute to each step of pathogenesis.
Bacterial Exoenzymes and Toxins as Virulence Factors
After exposure and adhesion, the next step in pathogenesis is invasion, which can involve enzymes and toxins. Many pathogens achieve invasion by entering the bloodstream, an effective means of dissemination because blood vessels pass close to every cell in the body. The downside of this mechanism of dispersal is that the blood also includes numerous elements of the immune system. Various terms ending in –emia are used to describe the presence of pathogens in the bloodstream. The presence of bacteria in blood is called bacteremia. When viruses are found in the blood, it is called viremia. The term toxemia describes the condition when toxins are found in the blood. If bacteria are both present and multiplying in the blood, this condition is called septicemia. Patients with septicemia are described as septic.
Exoenzymes
Some pathogens produce extracellular enzymes, or exoenzymes, that enable them to invade host cells and deeper tissues. Exoenzymes have a wide variety of targets. Each exoenzyme functions in the context of a particular tissue structure to facilitate invasion or support its own growth and defend against the immune system. For example, hyaluronidase S, an enzyme produced by pathogens like Staphylococcus aureus, degrades the glycoside hyaluronan (hyaluronic acid), which acts as an intercellular cement between adjacent cells in connective tissue (Figure 11.8). This allows the pathogen to pass through the tissue layers at the portal of entry and disseminate elsewhere in the body. Other exoenzymes break down the phospholipid bilyer of host cells, collagen in connective tissue, or DNA released by dying cells.

Toxins
In addition to exoenzymes, certain pathogens are able to produce toxins, biological poisons that assist in their ability to invade and cause damage to tissues. The ability of a pathogen to produce toxins to cause damage to host cells is called toxigenicity.
Toxins can be categorized as endotoxins or exotoxins. The lipopolysaccharide (LPS) found on the outer membrane of gram-negative bacteria is called endotoxin (Figure 11.9). During infection and disease, gram-negative bacterial pathogens release endotoxin either when the cell dies, resulting in the disintegration of the membrane, or when the bacterium undergoes binary fission. The lipid component of endotoxin, lipid A, is responsible for the toxic properties of the LPS molecule. Lipid A is relatively conserved across different genera of gram-negative bacteria; therefore, the toxic properties of lipid A are similar regardless of the gram-negative pathogen. Lipid A triggers the immune system's inflammatory response (see Inflammation and Fever). If the concentration of endotoxin in the body is low, the inflammatory response may provide the host an effective defense against infection; on the other hand, high concentrations of endotoxin in the blood can cause an excessive inflammatory response, leading to a severe drop in blood pressure, multi-organ failure, and death.

Unlike the toxic lipid A of endotoxin, exotoxins are protein molecules that are produced by a wide variety of living pathogenic bacteria. Although some gram-negative pathogens produce exotoxins, the majority are produced by gram- positive pathogens. Exotoxins differ from endotoxin in several other key characteristics, summarized in Table 11.2. In contrast to endotoxin, which stimulates a general systemic inflammatory response when released, exotoxins are much more specific in their action and the cells they interact with. Each exotoxin targets specific receptors on specific cells and damages those cells through unique molecular mechanisms. Endotoxin remains stable at high temperatures, and requires heating at 121 °C (250 °F) for 45 minutes to inactivate. By contrast, most exotoxins are heat labile because of their protein structure, and many are denatured (inactivated) at temperatures above 41 °C (106 °F). As discussed earlier, endotoxin can stimulate a lethal inflammatory response at very high concentrations and has a measured LD50 of 0.24 mg/kg. By contrast, very small concentrations of exotoxins can be lethal. For example, botulinum toxin, which causes botulism, has an LD50 of 0.000001 mg/kg (240,000 times more lethal than endotoxin).
Table 11.2 Comparison of Endotoxin and Exotoxins Produced by Bacteria 

| | | |
| --- | --- | --- |
| Characteristic | Endotoxin | Exotoxin |
| Source | Gram-negative bacteria | Gram-positive (primarily) and gram-negative bacteria |
| Composition | Lipid A component of lipopolysaccharide | Protein |
| Effect on host | General systemic symptoms of inflammation and fever | Specific damage to cells dependent upon receptor-mediated targeting of cells and specific mechanisms of action |
| Heat stability | Heat stable | Most are heat labile, but some are heat stable |
| LD50 | High | Low |
The exotoxins can be grouped into three categories based on their target: intracellular targeting, membrane disrupting, and superantigens.
The intracellular targeting toxins comprise two components: A for activity and B for binding. Thus, these types of toxins are known as A-B exotoxins (Figure 11.10). The B component is responsible for the cellular specificity of the toxin and mediates the initial attachment of the toxin to specific cell surface receptors. Once the A-B toxin binds to the host cell, it is brought into the cell by endocytosis and entrapped in a vacuole. The A and B subunits separate as the vacuole acidifies. The A subunit then enters the cell cytoplasm and interferes with the specific internal cellular function that it targets. Four unique examples of A-B toxins are the diphtheria, cholera, botulinum, and tetanus toxins.

Link to Learning
Click this link (https://openstax.org/l/22pathochol) to see an animation of how the cholera toxin functions.
Click this link (https://openstax.org/l/22Botulin) to see an animation of how the botulinum toxin functions.
Membrane-disrupting toxins affect cell membrane function either by forming pores or by disrupting the phospholipid bilayer in host cell membranes. Two types of membrane-disrupting exotoxins are hemolysins and leukocidins, which form pores in cell membranes, causing leakage of the cytoplasmic contents and cell lysis. These toxins were originally thought to target red blood cells (erythrocytes) and white blood cells (leukocytes), respectively, but we now know they can affect other cells as well.
The third class of exotoxins is the superantigens. These are exotoxins that trigger an excessive, nonspecific stimulation of immune cells to secrete cytokines (chemical messengers). The excessive production of cytokines, often called a cytokine storm, elicits a strong immune and inflammatory response that can cause life-threatening high fevers, low blood pressure, multi-organ failure, shock, and death. The prototype superantigen is the toxic shock syndrome toxin of S. aureus. Most toxic shock syndrome cases are associated with vaginal colonization by toxin- producing S. aureus in menstruating women; however, colonization of other body sites can also occur. Some strains of Streptococcus pyogenes also produce superantigens; they are referred to as the streptococcal mitogenic exotoxins and the streptococcal pyrogenic toxins.
Describe how exoenzymes contribute to bacterial invasion.
Explain the difference between exotoxins and endotoxin.
Name the three classes of exotoxins.
Virulence Factors for Survival in the Host and Immune Evasion
Evading the immune system is also important to invasiveness. Bacteria use a variety of virulence factors to evade phagocytosis by cells of the immune system. For example, many bacteria produce capsules, which are used in adhesion but also aid in immune evasion by preventing ingestion by phagocytes. The composition of the capsule prevents immune cells from being able to adhere and then phagocytose the cell. In addition, the capsule makes the bacterial cell much larger, making it harder for immune cells to engulf the pathogen (Figure 11.11). Some pathogens can also produce proteases to protect themselves against phagocytosis.

In addition to capsules and proteases, some bacterial pathogens produce other virulence factors that allow them to evade the immune system, such as fimbriae to inhibit phagocytosis or mycolic acid to resist some of the killing mechanisms within the phagolysosome.
Some bacteria produce virulence factors that promote infection by exploiting molecules naturally produced by the host. For example, most strains of Staphylococcus aureus produce the exoenzyme coagulase, which exploits the natural mechanism of blood clotting to evade the immune system. Normally, blood clotting is triggered in response to blood vessel damage; platelets begin to plug the clot, and a cascade of reactions occurs in which fibrinogen, a soluble protein made by the liver, is cleaved into fibrin. Fibrin is an insoluble, thread-like protein that binds to blood platelets, cross-links, and contracts to form a mesh of clumped platelets and red blood cells. The resulting clot prevents further loss of blood from the damaged blood vessels. However, if bacteria release coagulase into the bloodstream, the fibrinogen-to-fibrin cascade is triggered in the absence of blood vessel damage. The resulting clot coats the bacteria in fibrin, protecting the bacteria from exposure to phagocytic immune cells circulating in the bloodstream.
Whereas coagulase causes blood to clot, kinases have the opposite effect by triggering the conversion of plasminogen to plasmin, which is involved in the digestion of fibrin clots. By digesting a clot, kinases allow pathogens trapped in the clot to escape and spread. Examples of kinases include staphylokinases and streptokinases, produced by Staphylococcus aureus and Streptococcus pyogenes, respectively. It is intriguing that S. aureus can produce both coagulase to promote clotting and staphylokinase to stimulate the digestion of clots. The action of the coagulase provides an important protective barrier from the immune system, but when nutrient supplies are diminished or other conditions signal a need for the pathogen to escape and spread, the production of staphylokinase can initiate this process.
A final mechanism that pathogens can use to protect themselves against the immune system is called antigenic variation, which is the alteration of surface proteins so that a pathogen is no longer recognized by the host's immune system.

Name at least two ways that a capsule provides protection from the immune system.
Besides capsules, name two other virulence factors used by bacteria to evade the immune system.
Viral Virulence
Although viral pathogens are not similar to bacterial pathogens in terms of structure, some of the properties that contribute to their virulence are similar. Viruses use adhesins to facilitate adhesion to host cells, and certain enveloped viruses rely on antigenic variation to avoid the host immune defenses. These virulence factors are discussed in more detail in the following sections.
Viral Adhesins
One of the first steps in any viral infection is adhesion of the virus to specific receptors on the surface of cells. This process is mediated by adhesins that are part of the viral capsid or membrane envelope. The interaction of viral adhesins with specific cell receptors defines the tropism (preferential targeting) of viruses for specific cells, tissues, and organs in the body. The spike protein hemagglutinin found on Influenzavirus is an example of a viral adhesin; it allows the virus to bind to the sialic acid on the membrane of host respiratory and intestinal cells.
Antigenic Variation in Viruses
Antigenic variation also occurs in certain types of enveloped viruses, including influenza viruses, which exhibit two forms of antigenic variation: antigenic drift and antigenic shift (Figure 11.12). Antigenic drift is the result of point mutations causing slight changes in the spike proteins hemagglutinin (H) and neuraminidase (N). On the other hand, antigenic shift is a major change in spike proteins due to gene reassortment. This reassortment for antigenic shift occurs typically when two different influenza viruses infect the same host.
The rate of antigenic variation in influenza viruses is very high, making it difficult for the immune system to recognize the many different strains of Influenzavirus. Although the body may develop immunity to one strain through natural exposure or vaccination, antigenic variation results in the continual emergence of new strains that the immune system will not recognize. This is the main reason that vaccines against Influenzavirus must be given annually. Each year's influenza vaccine provides protection against the most prevalent strains for that year, but new or different strains may be more prevalent the following year.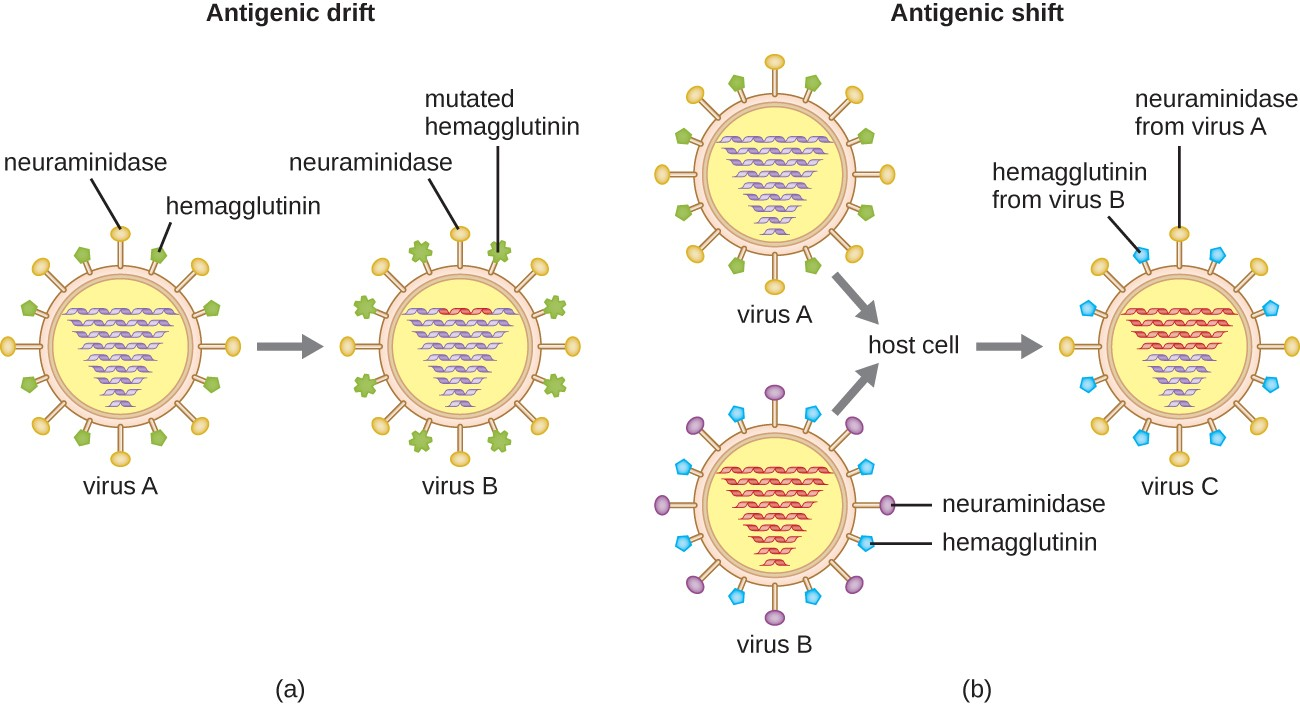 Link to Learning
For another explanation of how antigenic shift and drift occur, watch this video (https://openstax.org/l/22Antigenic).
Describe the role of adhesins in viral tropism.
Explain the difference between antigenic drift and antigenic shift.