Learning Objectives
Summarize the mechanisms, risks, and potential benefits of gene therapy
Identify ethical issues involving gene therapy and the regulatory agencies that provide oversight for clinical trials
Many types of genetic engineering have yielded clear benefits with few apparent risks. Few would question, for example, the value of our now abundant supply of human insulin produced by genetically engineered bacteria. However, many emerging applications of genetic engineering are much more controversial, often because their potential benefits are pitted against significant risks, real or perceived. This is certainly the case for gene therapy, a clinical application of genetic engineering that may one day provide a cure for many diseases but is still largely an experimental approach to treatment.
Mechanisms and Risks of Gene Therapy
Human diseases that result from genetic mutations are often difficult to treat with drugs or other traditional forms of therapy because the signs and symptoms of disease result from abnormalities in a patient's genome. For example, a patient may have a genetic mutation that prevents the expression of a specific protein required for the normal function of a particular cell type. This is the case in patients with Severe Combined Immunodeficiency (SCID), a genetic disease that impairs the function of certain white blood cells essential to the immune system.
Gene therapy attempts to correct genetic abnormalities by introducing a nonmutated, functional gene into the patient's genome. The nonmutated gene encodes a functional protein that the patient would otherwise be unable to produce. Viral vectors are sometimes used to introduce the functional gene; part of the viral genome is removed and replaced with the desired gene (Figure 8.5). More advanced forms of gene therapy attempt to correct the mutation at the original site in the genome, such as is the case with treatment of SCID.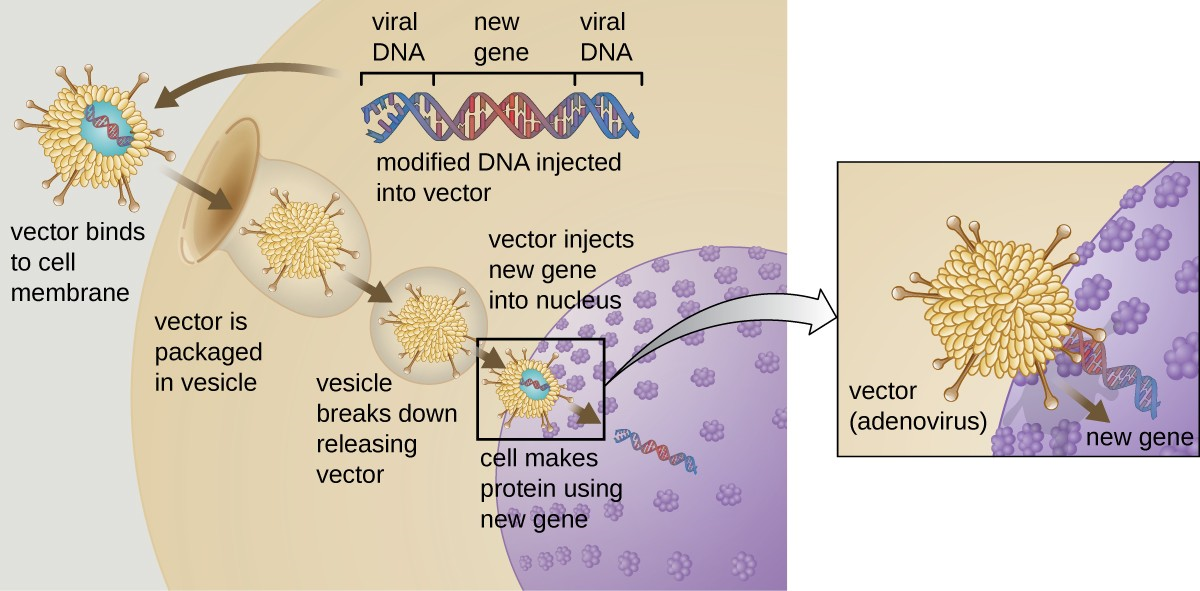 So far, gene therapies have proven relatively ineffective, with the possible exceptions of treatments for cystic fibrosis and adenosine deaminase deficiency, a type of SCID. Other trials have shown the clear hazards of attempting genetic manipulation in complex multicellular organisms like humans. In some patients, the use of an adenovirus vector can trigger an unanticipated inflammatory response from the immune system, which may lead to organ failure. Moreover, because viruses can often target multiple cell types, the virus vector may infect cells not targeted for the therapy, damaging these other cells and possibly leading to illnesses such as cancer. Another potential risk is that the modified virus could revert to being infectious and cause disease in the patient. Lastly, there is a risk that the inserted gene could unintentionally inactivate another important gene in the patient's genome, disrupting normal cell cycling and possibly leading to tumor formation and cancer. Because gene therapy involves so many risks, candidates for gene therapy need to be fully informed of these risks before providing informed consent to undergo the therapy.
Explain how gene therapy works in theory.
Identify some risks of gene therapy.