Chapter 17. Content Analysis
Introduction
is a term that is used to mean both a method of data collection and a method of data analysis. Archival and historical works can be the source of content analysis, but so too can the contemporary media coverage of a story, blogs, comment posts, films, cartoons, advertisements, brand packaging, and photographs posted on Instagram or Facebook. Really, almost anything can be the "content" to be analyzed. This is a qualitative research method because the focus is on the meanings and interpretations of that content rather than strictly numerical counts or variables-based causal modeling.[1] Qualitative content analysis (sometimes referred to as QCA) is particularly useful when attempting to define and understand prevalent stories or communication about a topic of interest—in other words, when we are less interested in what particular people (our defined sample) are doing or believing and more interested in what general narratives exist about a particular topic or issue. This chapter will explore different approaches to content analysis and provide helpful tips on how to collect data, how to turn that data into codes for analysis, and how to go about presenting what is found through analysis. It is also a nice segue between our data collection methods (e.g., interviewing, observation) chapters and chapters 18 and 19, whose focus is on coding, the primary means of data analysis for most qualitative data. In many ways, the methods of content analysis are quite similar to the method of coding.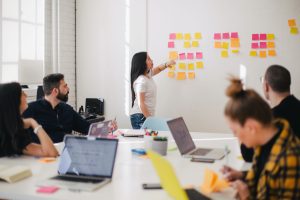 Although the body of material ("content") to be collected and analyzed can be nearly anything, most qualitative content analysis is applied to forms of human communication (e.g., media posts, news stories, campaign speeches, advertising jingles). The point of the analysis is to understand this communication, to systematically and rigorously explore its meanings, assumptions, themes, and patterns. Historical and archival sources may be the subject of content analysis, but there are other ways to analyze ("code") this data when not overly concerned with the communicative aspect (see chapters 18 and 19). This is why we tend to consider content analysis its own method of data collection as well as a method of data analysis. Still, many of the techniques you learn in this chapter will be helpful to any "coding" scheme you develop for other kinds of qualitative data. Just remember that content analysis is a particular form with distinct aims and goals and traditions.
An Overview of the Content Analysis Process
The First Step: Selecting Content
Figure 17.2 is a display of possible content for content analysis. The first step in content analysis is making smart decisions about what content you will want to analyze and to clearly connect this content to your research question or general focus of research. Why are you interested in the messages conveyed in this particular content? What will the identification of patterns here help you understand? Content analysis can be fun to do, but in order to make it research, you need to fit it into a research plan.
| | | | |
| --- | --- | --- | --- |
| New stories | Blogs | Comment posts | Lyrics |
| Letters to editor | Films | Cartoons | Advertisements |
| Brand packaging | Logos | Instagram photos | Tweets |
| Photographs | Graffiti | Street signs | Personalized license plates |
| Avatars (names, shapes, presentations) | Nicknames | Band posters | Building names |
Figure 17.1. A Non-exhaustive List of "Content" for Content Analysis
To take one example, let us imagine you are interested in gender presentations in society and how presentations of gender have changed over time. There are various forms of content out there that might help you document changes. You could, for example, begin by creating a list of magazines that are coded as being for "women" (e.g., Women's Daily Journal) and magazines that are coded as being for "men" (e.g., Men's Health). You could then select a date range that is relevant to your research question (e.g., 1950s–1970s) and collect magazines from that era. You might create a "sample" by deciding to look at three issues for each year in the date range and a systematic plan for what to look at in those issues (e.g., advertisements? Cartoons? Titles of articles? Whole articles?). You are not just going to look at some magazines willy-nilly. That would not be systematic enough to allow anyone to replicate or check your findings later on. Once you have a clear plan of what content is of interest to you and what you will be looking at, you can begin, creating a record of everything you are including as your content. This might mean a list of each advertisement you look at or each title of stories in those magazines along with its publication date. You may decide to have multiple "content" in your research plan. For each content, you want a clear plan for collecting, sampling, and documenting.
The Second Step: Collecting and Storing
Once you have a plan, you are ready to collect your data. This may entail downloading from the internet, creating a Word document or PDF of each article or picture, and storing these in a folder designated by the source and date (e.g., "Men's Health advertisements, 1950s"). Sølvberg (2021), for example, collected posted job advertisements for three kinds of elite jobs (economic, cultural, professional) in Sweden. But collecting might also mean going out and taking photographs yourself, as in the case of graffiti, street signs, or even what people are wearing. Chaise LaDousa, an anthropologist and linguist, took photos of "house signs," which are signs, often creative and sometimes offensive, hung by college students living in communal off-campus houses. These signs were a focal point of college culture, sending messages about the values of the students living in them. Some of the names will give you an idea: "Boot 'n Rally," "The Plantation," "Crib of the Rib." The students might find these signs funny and benign, but LaDousa (2011) argued convincingly that they also reproduced racial and gender inequalities. The data here already existed—they were big signs on houses—but the researcher had to collect the data by taking photographs.
In some cases, your content will be in physical form but not amenable to photographing, as in the case of films or unwieldy physical artifacts you find in the archives (e.g., undigitized meeting minutes or scrapbooks). In this case, you need to create some kind of detailed log (fieldnotes even) of the content that you can reference. In the case of films, this might mean watching the film and writing down details for key scenes that become your data.[2] For scrapbooks, it might mean taking notes on what you are seeing, quoting key passages, describing colors or presentation style. As you might imagine, this can take a lot of time. Be sure you budget this time into your research plan.
A note on data scraping: Data scraping, sometimes known as screen scraping or frame grabbing, is a way of extracting data generated by another program, as when a scraping tool grabs information from a website. This may help you collect data that is on the internet, but you need to be ethical in how to employ the scraper. A student once helped me scrape thousands of stories from the Time magazine archives at once (although it took several hours for the scraping process to complete). These stories were freely available, so the scraping process simply sped up the laborious process of copying each article of interest and saving it to my research folder. Scraping tools can sometimes be used to circumvent paywalls. Be careful here!
The Third Step: Analysis
There is often an assumption among novice researchers that once you have collected your data, you are ready to write about what you have found. Actually, you haven't yet found anything, and if you try to write up your results, you will probably be staring sadly at a blank page. Between the collection and the writing comes the difficult task of systematically and repeatedly reviewing the data in search of patterns and themes that will help you interpret the data, particularly its communicative aspect (e.g., What is it that is being communicated here, with these "house signs" or in the pages of Men's Health?).
The first time you go through the data, keep an open mind on what you are seeing (or hearing), and take notes about your observations that link up to your research question. In the beginning, it can be difficult to know what is relevant and what is extraneous. Sometimes, your research question changes based on what emerges from the data. Use the first round of review to consider this possibility, but then commit yourself to following a particular focus or path. If you are looking at how gender gets made or re-created, don't follow the white rabbit down a hole about environmental injustice unless you decide that this really should be the focus of your study or that issues of environmental injustice are linked to gender presentation. In the second round of review, be very clear about emerging themes and patterns. Create codes (more on these in chapters 18 and 19) that will help you simplify what you are noticing. For example, "men as outdoorsy" might be a common trope you see in advertisements. Whenever you see this, mark the passage or picture. In your third (or fourth or fifth) round of review, begin to link up the tropes you've identified, looking for particular patterns and assumptions. You've drilled down to the details, and now you are building back up to figure out what they all mean. Start thinking about theory—either theories you have read about and are using as a frame of your study (e.g., gender as performance theory) or theories you are building yourself, as in the Grounded Theory tradition. Once you have a good idea of what is being communicated and how, go back to the data at least one more time to look for disconfirming evidence. Maybe you thought "men as outdoorsy" was of importance, but when you look hard, you note that women are presented as outdoorsy just as often. You just hadn't paid attention. It is very important, as any kind of researcher but particularly as a qualitative researcher, to test yourself and your emerging interpretations in this way.
The Fourth and Final Step: The Write-Up
Only after you have fully completed analysis, with its many rounds of review and analysis, will you be able to write about what you found. The interpretation exists not in the data but in your analysis of the data. Before writing your results, you will want to very clearly describe how you chose the data here and all the possible limitations of this data (e.g., historical-trace problem or power problem; see chapter 16). Acknowledge any limitations of your sample. Describe the audience for the content, and discuss the implications of this. Once you have done all of this, you can put forth your interpretation of the communication of the content, linking to theory where doing so would help your readers understand your findings and what they mean more generally for our understanding of how the social world works.[3]
Analyzing Content: Helpful Hints and Pointers
Although every data set is unique and each researcher will have a different and unique research question to address with that data set, there are some common practices and conventions. When reviewing your data, what do you look at exactly? How will you know if you have seen a pattern? How do you note or mark your data?
Let's start with the last question first. If your data is stored digitally, there are various ways you can highlight or mark up passages. You can, of course, do this with literal highlighters, pens, and pencils if you have print copies. But there are also qualitative software programs to help you store the data, retrieve the data, and mark the data. This can simplify the process, although it cannot do the work of analysis for you.
Qualitative software can be very expensive, so the first thing to do is to find out if your institution (or program) has a universal license its students can use. If they do not, most programs have special student licenses that are less expensive. The two most used programs at this moment are probably ATLAS.ti and NVivo. Both can cost more than $500[4] but provide everything you could possibly need for storing data, content analysis, and coding. They also have a lot of customer support, and you can find many official and unofficial tutorials on how to use the programs' features on the web. Dedoose, created by academic researchers at UCLA, is a decent program that lacks many of the bells and whistles of the two big programs. Instead of paying all at once, you pay monthly, as you use the program. The monthly fee is relatively affordable (less than $15), so this might be a good option for a small project. HyperRESEARCH is another basic program created by academic researchers, and it is free for small projects (those that have limited cases and material to import). You can pay a monthly fee if your project expands past the free limits. I have personally used all four of these programs, and they each have their pluses and minuses.
Regardless of which program you choose, you should know that none of them will actually do the hard work of analysis for you. They are incredibly useful for helping you store and organize your data, and they provide abundant tools for marking, comparing, and coding your data so you can make sense of it. But making sense of it will always be your job alone.
So let's say you have some software, and you have uploaded all of your content into the program: video clips, photographs, transcripts of news stories, articles from magazines, even digital copies of college scrapbooks. Now what do you do? What are you looking for? How do you see a pattern? The answers to these questions will depend partially on the particular research question you have, or at least the motivation behind your research. Let's go back to the idea of looking at gender presentations in magazines from the 1950s to the 1970s. Here are some things you can look at and code in the content: (1) actions and behaviors, (2) events or conditions, (3) activities, (4) strategies and tactics, (5) states or general conditions, (6) meanings or symbols, (7) relationships/interactions, (8) consequences, and (9) settings. Table 17.1 lists these with examples from our gender presentation study.
Table 17.1. Examples of What to Note During Content Analysis
| What can be noted/coded | Example from Gender Presentation Study |
| --- | --- |
| Actions and behaviors | Men are depicted standing while women are sitting |
| Events or conditions | Many more depictions of women "in crisis" over appearance |
| Activities | Men fixing things vs Women cooking and baking |
| Strategies and tactics | How to sections of magazines: how to ask for a raise (men's magazine) |
| States/conditions | Women often presented as in a state of worry or being harried |
| Meanings/symbols | A "pipe" is used as shorthand for "man" while an outline of a "skirt" is used as shorthand for "woman" in a comic |
| Relationships/interactions | Men often shown "helping" women (out of cars, through doors, fixing things) |
| Consequences | A fictional story shows an independent woman getting injured and regretting turning down a marriage proposal |
| Settings | Men often portrayed in office setting or outdoors; women in kitchens and living rooms |
One thing to note about the examples in table 17.1: sometimes we note (mark, record, code) a single example, while other times, as in "settings," we are recording a recurrent pattern. To help you spot patterns, it is useful to mark every setting, including a notation on gender. Using software can help you do this efficiently. You can then call up "setting by gender" and note this emerging pattern. There's an element of counting here, which we normally think of as quantitative data analysis, but we are using the count to identify a pattern that will be used to help us interpret the communication. Content analyses often include counting as part of the interpretive (qualitative) process.
In your own study, you may not need or want to look at all of the elements listed in table 17.1. Even in our imagined example, some are more useful than others. For example, "strategies and tactics" is a bit of a stretch here. In studies that are looking specifically at, say, policy implementation or social movements, this category will prove much more salient.
Another way to think about "what to look at" is to consider aspects of your content in terms of units of analysis. You can drill down to the specific words used (e.g., the adjectives commonly used to describe "men" and "women" in your magazine sample) or move up to the more abstract level of concepts used (e.g., the idea that men are more rational than women). Counting for the purpose of identifying patterns is particularly useful here. How many times is that idea of women's irrationality communicated? How is it is communicated (in comic strips, fictional stories, editorials, etc.)? Does the incidence of the concept change over time? Perhaps the "irrational woman" was everywhere in the 1950s, but by the 1970s, it is no longer showing up in stories and comics. By tracing its usage and prevalence over time, you might come up with a theory or story about gender presentation during the period. Table 17.2 provides more examples of using different units of analysis for this work along with suggestions for effective use.
Table 17.2. Examples of Unit of Analysis in Content Analysis
| Unit of Analysis | How Used... |
| --- | --- |
| Words | Identify and count the usage of particular salient words; compare and contrast over content data and time |
| Themes | Identify and count themes; look for patterns in how themes get funneled into a "main" theme and when |
| Characters | Who are the main characters (real or stock, as in the "irrational woman" or "outdoorsy man")? How much space is taken up with these characters? Do they change over time? |
| Paragraphs | How much space is devoted to whatever it is you are looking at? In an article, how many paragraphs are dedicated to talking about X? |
| Items | How many items in your collected data are about X? (similar to paragraphs but useful for non-written data) |
| Concepts | Identify and count the usage of important concepts; compare and contrast over content data and time; link to words used and devoted space |
| Semantics | Note how strong or weak words and images are that are used around your key issue or focus. Note that "crazy women" has a different intensity than "irrational women" |
Every qualitative content analysis is unique in its particular focus and particular data used, so there is no single correct way to approach analysis. You should have a better idea, however, of what kinds of things to look for and what to look for. The next two chapters will take you further into the coding process, the primary analytical tool for qualitative research in general.
Further Readings
Cidell, Julie. 2010. "Content Clouds as Exploratory Qualitative Data Analysis." Area 42(4):514–523. A demonstration of using visual "content clouds" as a form of exploratory qualitative data analysis using transcripts of public meetings and content of newspaper articles.

Hsieh, Hsiu-Fang, and Sarah E. Shannon. 2005. "Three Approaches to Qualitative Content Analysis." Qualitative Health Research 15(9):1277–1288. Distinguishes three distinct approaches to QCA: conventional, directed, and summative. Uses hypothetical examples from end-of-life care research.

Jackson, Romeo, Alex C. Lange, and Antonio Duran. 2021. "A Whitened Rainbow: The In/Visibility of Race and Racism in LGBTQ Higher Education Scholarship." Journal Committed to Social Change on Race and Ethnicity (JCSCORE) 7(2):174–206.* Using a "critical summative content analysis" approach, examines research published on LGBTQ people between 2009 and 2019.

Krippendorff, Klaus. 2018. Content Analysis: An Introduction to Its Methodology. 4th ed. Thousand Oaks, CA: SAGE. A very comprehensive textbook on both quantitative and qualitative forms of content analysis.

Mayring, Philipp. 2022. Qualitative Content Analysis: A Step-by-Step Guide. Thousand Oaks, CA: SAGE. Formulates an eight-step approach to QCA.

Messinger, Adam M. 2012. "Teaching Content Analysis through 'Harry Potter.'" Teaching Sociology 40(4):360–367. This is a fun example of a relatively brief foray into content analysis using the music found in Harry Potter films.

Neuendorft, Kimberly A. 2002. The Content Analysis Guidebook. Thousand Oaks, CA: SAGE. Although a helpful guide to content analysis in general, be warned that this textbook definitely favors quantitative over qualitative approaches to content analysis.

Schrier, Margrit. 2012. Qualitative Content Analysis in Practice. Thousand Okas, CA: SAGE. Arguably the most accessible guidebook for QCA, written by a professor based in Germany.

Weber, Matthew A., Shannon Caplan, Paul Ringold, and Karen Blocksom. 2017. "Rivers and Streams in the Media: A Content Analysis of Ecosystem Services." Ecology and Society 22(3).* Examines the content of a blog hosted by National Geographic and articles published in The New York Times and the Wall Street Journal for stories on rivers and streams (e.g., water-quality flooding).
---
A method of both data collection and data analysis in which a given content (textual, visual, graphic) is examined systematically and rigorously to identify meanings, themes, patterns and assumptions. Qualitative content analysis (QCA) is concerned with gathering and interpreting an existing body of material.